European Integration: Conflicts, Institutions, Policies, and Cohesion
This course offers a general introduction to the European Union and European integration, its institutions and policies as well as conflicts which arise. It will pay special attention to economic, social, and foreign policies, and their impact on cohesion. The course is based on three premises. Firstly, although European integration means well to all Europeans, its costs and benefits are unevenly distributed across individuals, social groups, and regions. Secondly, support for European integration and related EU policies is to a great extent determined by utilitarian choices and at times is driven by national interests, so this uneven distribution endangers the EU, creates East-West political divide and mistrust at the grassroots level. Finally, it is crucial for us Europeans – EU as well as European citizens, professionals, scholars – to recognise the roots and causes of such divide and mistrust in order to understand the other part (the EU of institutions), engage in the dialogue, accept the responsibility and minimise potential conflicts.
Topics
The idea of Europe and the evolution of the EU
What is the European Union for?
The single market, the euro, and other efficiency policies
The EU budget and redistributive policies
Migration policies
Education policies
Gender policies in the EU
External relations and foreign policies
European cultural diplomacy and foreign policy
EU and Eastern neighborhood
Europe for citizen
The Seminar European Integration 1.0
Summer Semester 2020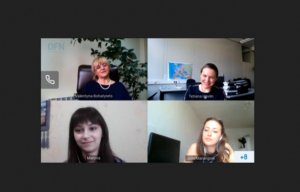 Discussion dedicated to the migration policies in the EU, Jun 3 2020.
Clockwise from top left corner:
Dr. Valentyna Bohatyrets (Uni Chernivtsi coordinator)
Dr. Tetiana Havlin (Uni Siegen coordinator)
Julie Maragoni (French Erasmus exchange student at Uni Siegen 2020),
Maryna Zhyzhyian (Ukrainian student from the Uni Chernivtsi)
The Seminar European Integration 2.0
Winter Semester 2020/21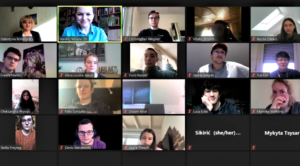 The Europe for citizens and the role of the EU per Zoom, Feb 3 2021.
The discussion took place among the BA-Students from the University of Siegen and University of Chernivtsi under the guidance of Dr. Valentyna Bohatyrets and Dr. Tetiana Havlin.
The key points of the discussion: political representation and legal frame; economy of the daily life (the Euro, labor mobility); grass-roots movements, interpersonal relationships.